Covid-19, immigration detention, releases – where we stand
by Bella Sankey, Director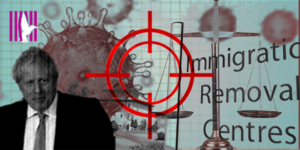 Our campaign to protect people in immigration detention from Covid-19 has made an unprecedented impact in just two weeks.
A huge thank you to everyone who has helped us react quickly to this crisis and campaign hard and fast to stop it. The pressure we're putting on the government is working.
Together, we've pressured the government into 350 releases, system-wide case reviews and a bar on many new detentions.
But hundreds are still in detention and they need us now more than ever. In the last few days, our Casework Team has taken on more new cases than we usually see in a week.
Keep signing, keep sharing, keep fighting.
EMERGENCY PETITION
Urgent Protect people in immigration detention from COVID-19.

COVID-19 poses a grave threat to life in immigration detention centres, where hundreds are warehoused in unsanitary conditions and many have serious health conditions. Sign the petition to force the Government to act before it's too late
Here's where we stand:
In court this week, the Judges refused to grant our request for more immediate releases.
But in response to our campaign and legal action the Government has so far released 350 people and committed to reviewing the cases of every single person currently detained, prioritising those with relevant underlying health conditions.
We hope to see further significant releases in the coming days as a result.
The Government has also been forced to halt new detentions for people liable to removal to 49 countries including Jamaica, India, Pakistan, Afghanistan, Iraq, Sudan and Albania.
The Home Office has issued new guidance, including a review of cleaning practices in detention centres, provision of anti-bacterial cleaning materials on request and facilities that allow self-isolation in single occupancy rooms.
It's an incredible list of achievements – people are free and better protected during this crisis because of our work.
More of the same to come.
Thank you.
Stay safe, stay well, and look after each other.